Analyze operations
Operation analysis information includes the domain name rankings, requests, unique IP addresses, top referers, top URLs, areas, and ISPs.
Procedure
Log in to the Kingsoft Cloud CDN console.
In the left navigation pane, click Operation Analysis.
On the Operation Analysis page, click a tab and select the query conditions. Then, click Search.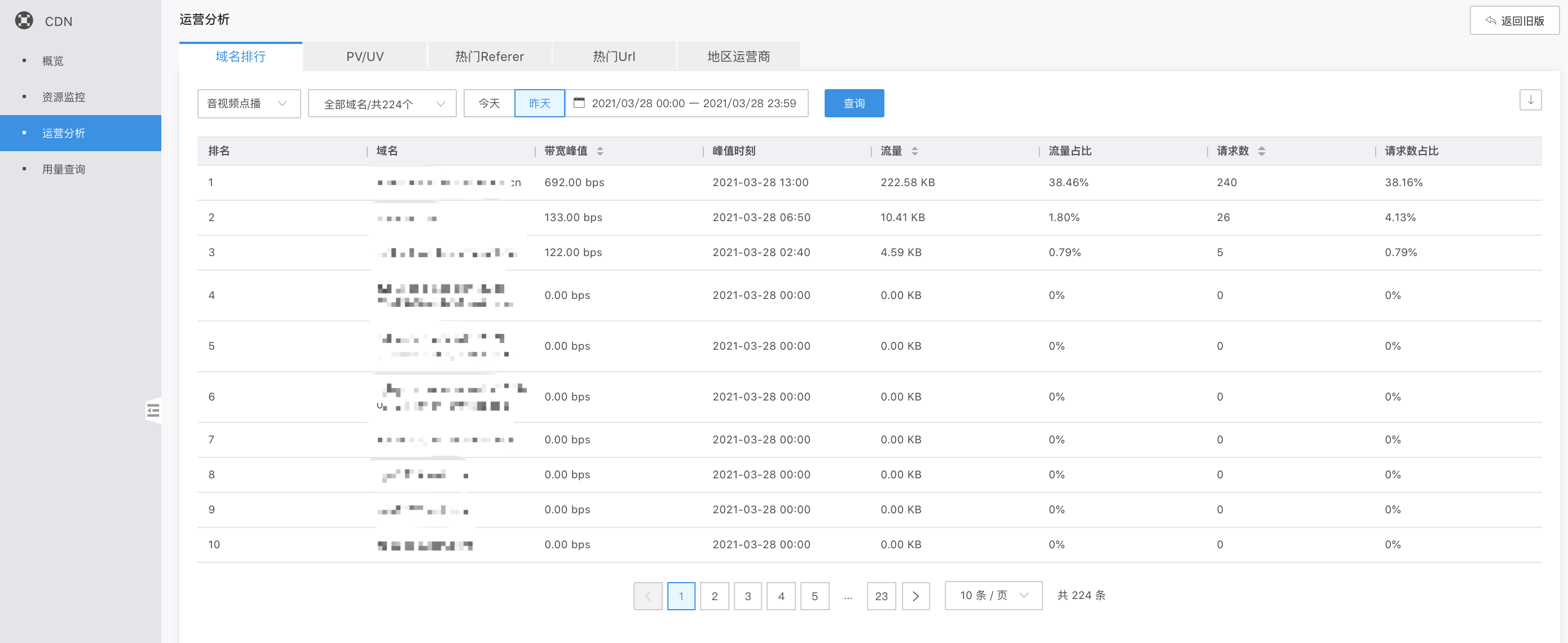 The query conditions include the domain name, business type, and time period (today, yesterday, or a custom period). After you click Search, you can view the ranking of the selected item. You can click the Download icon to export the data.
Domain Name Ranking
| Item | Description |
| --- | --- |
| Peak Bandwidth | The peak bandwidth occurred in the specified time period. |
| Peaked At | The time when the bandwidth peaked in the specified time period. |
| Traffic | The total amount of traffic generated for the domain name in the specified time period. |
| Traffic Percentage | Traffic percentage = Total amount of traffic generated for the domain name in the specified time period/Total amount of traffic generated for all domain names in the specified time period |
| Requests | The total number of requests generated for the domain name in the specified time period. |
| Request Percentage | Request percentage = Total number of requests generated for the domain name in the specified time period/Total number of requests generated for all domain names in the specified time period |
PV/UV
| Item | Description |
| --- | --- |
| IP | The unique client IP address that issued requests in the specified time period. |
| PV | The number of requests from the IP address to the specified domain names in the specified time period. |
| Total Traffic | The total amount of traffic generated from the IP address in the specified time period. |
Popular Referers
| Item | Description |
| --- | --- |
| Referer | The referer used by clients in the specified time period. |
| Traffic | The total amount of traffic generated from the referer in the specified time period. |
| Traffic Percentage | Traffic percentage = Total amount of traffic generated from the referer in the specified time period/Total amount of traffic generated in the specified time period |
| Requests | The total number of requests generated from the referer in the specified time period. |
| Request Percentage | Request percentage = Total number of requests generated from the referer in the specified time period/Total number of requests generated in the specified time period |
Popular URLs
| Item | Description |
| --- | --- |
| Traffic | The total amount of traffic generated for the URL in the specified time period. |
| Traffic Percentage | Traffic percentage = Total amount of traffic generated for the URL in the specified time period/Total amount of traffic generated for all URLs in the specified time period |
| Requests | The total number of requests generated for the URL in the specified time period. |
| Request Percentage | Request percentage = Total number of requests generated for the URL in the specified time period/Total number of requests generated for all URLs in the specified time period |
Regional Carrier
| Item | Description |
| --- | --- |
| Traffic | The total amount of traffic generated for the area or ISP in the specified time period. |
| Traffic Percentage | Traffic percentage = Total amount of traffic generated for the area or ISP in the specified time period/Total amount of traffic generated for all areas or ISPs in the specified time period |
| Requests | The total number of requests generated for the area or ISP in the specified time period. |
| Request Percentage | Request percentage = Total number of requests generated for the area or ISP in the specified time period/Total number of requests generated for all areas or ISPs in the specified time period |