Validity period adjustment
From September 1, 2020, Apple, Google, and Mozilla adjusted the validity period policy on trusted SSL certificates in their systems or browsers, and shortened the maximum validity period from 825 days to 398 days. Correspondingly, CAs also adjusted the maximum validity period of SSL certificates.
Renewal description
Due to the adjustment of the maximum validity period, we recommend that you renew your certificate within 30 days before your certificate expires to avoid waste of the validity period. Additionally, renew your certificate early to ensure that your certificate is valid when the CA review completes.
Certificate renewal process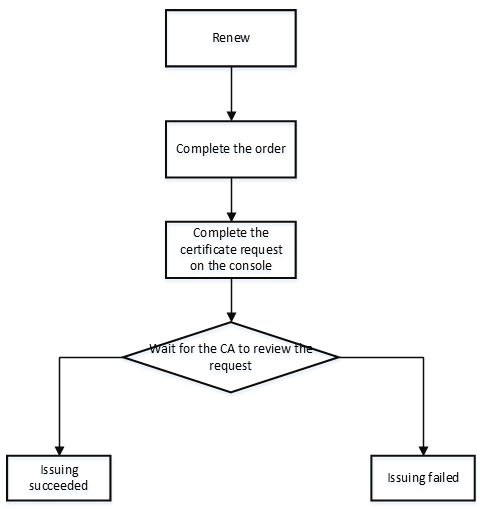 Note:
As required by CAs, you must re-enter certificate information again whether you buy or renew a certificate.
You can copy the certificate information you entered previously.
After the certificate is issued, the remaining validity duration of the original certificate is automatically added to the new certificate and the total validity duration will be 397 days at most.
Procedure
Log in to the KCM console.
On the KCM > Certificate Request page, select the certificate you want to renew and click Renew above the certificate list.
In the Renew dialog box, set the validity period and click Buy Now.
After successful payment, return to the certificate list in the KCM console. A certificate in the Incomplete state appears in the certificate list.
Click Supply in the Operation column corresponding to the certificate.
In the second step of completing the certification information, select Copy existing certificate information and select the original certificate.
Click Next to complete the information.
Return to the certificate list in the KCM console. The certificate state changes to Reviewing(Extend Validity).
Wait for the CA review completes. After passing the CA review, the certificate is issued.